Willis-Knighton Proton Therapy Center celebrates treating its 1,000th patient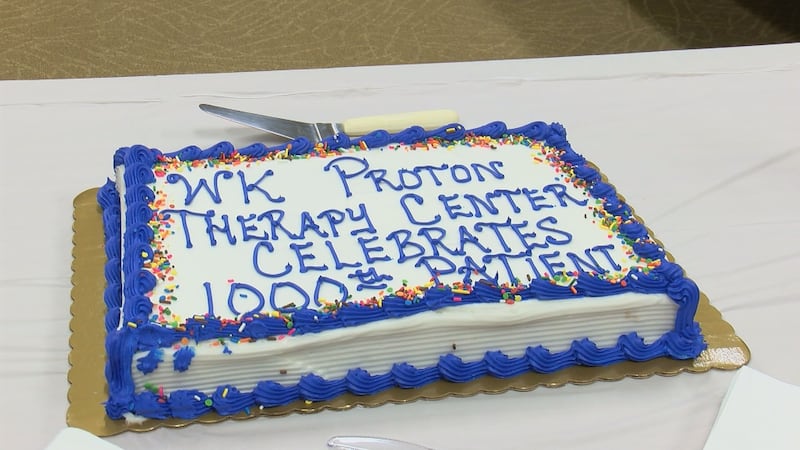 Published: Apr. 1, 2022 at 2:25 PM EDT
SHREVEPORT, La. (KSLA) - The Willis-Knighton Proton Therapy Center has now completed treatment for its 1,000th patient. This is the most advanced radiation therapy available to cancer patients, hospital officials say.
Michael Phipps from Fouke, Ark. underwent his final treatment for prostate cancer Friday, April 1, making him Willis-Knighton's 1,000th proton therapy patient. This center is the only one of its kind in the State of Louisiana and offers what health officials call a "highly effective alternative to conventional radiation treatment." Dr. Lane Rosen, the center's director of radiation oncology, says the treatment is not new. In fact, it has been in the U.S. for about 40 years.
"Patients in Shreveport-Bossier and northwest Louisiana have access to world-class care and technology not available in many cancer centers throughout North America," Dr. Rosen said. "Willis-Knighton is the only center in Louisiana with the experience, administrative support, and physics expertise that would allow proton therapy."
Health officials with Willis-Knighton say compared to traditional x-ray radiation, protons instead stop inside a tumor and don't continue to travel through the body, meaning healthy tissue receives much less (and often no) radiation. This is particularly beneficial for tumors in or close to the brain, spine, lungs, and prostate. The proton center treats a number of areas of the body, including the brain, prostate, lungs, head, neck, and breasts, as well as gynecological, GI, and pediatric cancers.
The center opened back in 2014 and became the 15th such center in the U.S. Previously, such specialized cancer care was only available in large, academic medical environments, Willis-Knighton says.
Copyright 2022 KSLA. All rights reserved.